Celebrating Four Decades Of Beautifying Cincinnati Homes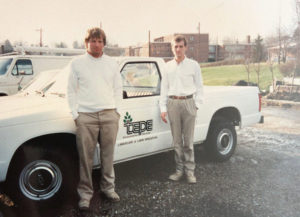 We have a dedicated professional team and are confident we will serve you in a manner that will exceed your expectations. It's an attitude that starts with our owners and transcends to our field crews, office personnel, and managers. When Mark and Gregg Tepe founded their company in 1980, they knew two things: quality landscapes, and superior customer service.
These are still our guiding philosophies today. Even as landscape trends change and we employ new styles, we still service our clients the old-fashioned way – with personal attention. Our wide range of services include landscape design, landscape maintenance, lawn sprinkler installation and service, landscape lighting, natural stone and paver patios and walkways. We use a variety of high-quality plant material that is well suited for the typical greater Cincinnati climate.
Not only can we help you coordinate and contract your other projects, such as swimming pools, decks, and gazebos, we will work closely with your contractor to assure that your project turns out just as you expect. Our goal is to partner with you and develop a long-term relationship. Collectively we have over 100 years of professional experience in the landscape industry as well as four full-time landscape designers on staff. We combine the science of landscape and the art of design by taking into consideration the architecture of your home, the topography of the surrounding properties, and your personal preferences.
Career Opportunities
At Tepe Services, we offer a professional working environment and atmosphere, with opportunities to grow.
Contact